Donderpop met B!TCHES, The Pointless Arrows en Jasmine Red
Donderpop: De muziekavond voor lokale en regionale acts. Gratis entree.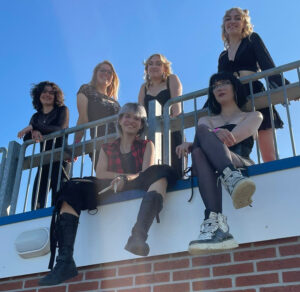 B!TCHES
Dit is B!TCHES! In deze all-female rockband uit West-Friesland spelen 6 muzikale meiden: Suus is de leadzangers, Sam is de bassist en tweede stem, Aimee en Bente op gitaar, Froukje op keys en Celina op drums. De muziek van Muse, Måneskin en Arctic Monkeys is wat B!TCHES energie geeft. Ze spelen bekende en minder bekende covers van deze bands en ook zijn ze bezig met het schrijven van eigen muziek. We are ready to rock!

The Pointless Arrows
The Pointless Arrows is een 5-koppige Nederlandse rock, punk, alternatieve band uit westfriesland, Noord Holland. De band ontstond in 2020 uit een verzameling rockende gasten die elkaar op school ontmoetten en die maar geen genoeg konden krijgen van ACDC, Queen en Green Day. Hun unieke vorm van entertainment combineert pittige drums met energieke shows die ervoor zorgen dat je wilt springen en zingen. Nu geprezen als The Pointless Arrows hebben ze meer dan 6 shows gegeven en opgetreden op de iconische Avond van Andijk. Momenteel werkt de band aan een nieuw album.

Jasmine Red
Jasmine Red is een stevige rockband uit Noord Holland met loepzuivere zang, krachtige gitaren en drums, een dwarsfluit en een hoop enthousiasme.
Ticket info:
do 7 december 2023 - 20:00
Donderpop met B!TCHES, The Pointless Arrows en Jasmine Red
Gratis entree
aanvang 20.30 uur, gratis entree