JIFFY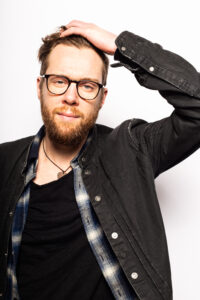 Hij speelde al met Two Shakes of a Lamb's Tail, Glock 45, The Polyframes, Engel & Paul de Munnik. Nu is Jesper klaar voor zijn eigen muziek.
Vorig jaar schreef hij een EP die eigenlijk voor Two Shakes of a Lamb's Tail bedoeld was. Dat plan ging niet door, en daar lag een EP vol nieuwe muziek. Jesper besloot het heft in eigen hand te nemen en de muziek volgens zijn eigen inzicht vorm te geven. Dit resulteerde in de debuut EP 'NEW' die hij uitbracht onder de nieuwe naam JIFFY.
Inmiddels ligt er nieuwe muziek, zijn er nieuwe plannen en is Jesper klaar voor de volgende stap.
Dit optreden in Manifesto is niet alleen het debuutoptreden, maar ook de opname voor het eerste JIFFY livealbum.
De JIFFY band, bestaande uit; Johan Kroeze, Mike van Harskamp, Brent Emmerink en Jos van Tol, speelt Rock. Je hoort invloeden van Led Zeppelin, Foo Fighters, Queens of the Stone Age & Aerosmith.
Ticket info:
vr 24 februari 2023 - 20:00
JIFFY
Hèt soloproject van Jesper Huisman