Joe Cocker (Tribute Band) + Fleetwood Mac (Back to Fleetwood)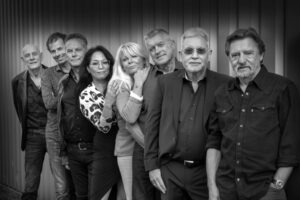 Joe Cocker (door Joe Cocker Tribute Band) en Fleetwood Mac (door Back to Fleetwood) samen op één avond. Uitgevoerd door muzikanten die de muziek door en door kennen en beleven.
Joe Cocker Tribute Band
Dit muzikale gezelschap brengt Joe Cocker weer helemaal tot leven. Natuurlijk worden de klassiekers gebracht van de Engelse blues-artiest. Henk Bolink kruipt in zijn huid en zet op unieke wijze de zang en moves van Joe Cocker neer.
Drummer Ton Bolink en bassist Gerrit Eikenaar startte de band en toen de plannen definitief waren, werd de band uitgebreid met toetsenist Dirk-Jan van Hulsen. De backing vocals, die Dana Oei en Jolanda Hewitt voor hun rekening nemen, maken het helemaal af. Naast Gerrit op de bas worden de gitaarpartijen gespeeld door Jasper Lok (sologitaar) en Stef Meijer (akoestische gitaar).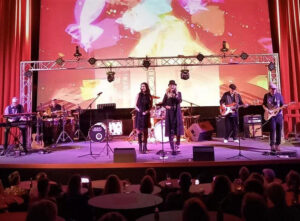 Back to Fleetwood
Back to Fleetwood bestaat uit zeven ervaren muzikanten, die uit liefde voor Fleetwood Mac de koppen bij elkaar gestoken hebben om de gouden hits van weleer nieuw leven in te blazen.
Wie kent ze niet, de tophits van de plaat Rumours? De typische sound in Dreams, Rhiannon, Sarah en Gypsy spreken vandaag nog steeds tot de verbeelding. Ook het fraaie Songbird of You Make Lovin' Fun van Christine McVie en de emotioneel geladen composities zoals Chain, Don't Stop en Go Your Own Way zijn een lust voor het oor…. De sterke leadzang kwaliteiten van elk bandlid garanderen een afwisselend programma en prachtig harmonieuze samenzang.
Dankzij een bezetting van, Vocals: Patricia Derks en Peter Derks Vocals/Drums, Pieter Oppelaar zang/gitaar Richard Lind gitaar ,Marcel Bakkum bas, Dirk-Jan van Hulsen toetsen, Mark Janssen percussie, waant men zich terug in de tijd en klinkt Second Hand News zeker niet "second hand"!
Ticket info:
za 7 oktober 2023 - 20:00
Joe Cocker (Tribute Band) + Fleetwood Mac (Back to Fleetwood)
Zaal open 20:00 uur aanvang 20.30 uur